Lunch on the Charles: A staging ground for social and commercial activation
Location: Boston, United States of America (USA)

Area: Herter Park

Year: 2021

Work Type: Student

Institute:

Graduate School of Design, Harvard University

Status: Conceptual

Team Members:

Felicia Nichole Perez

Instructor:

Robin Winogrond
MLA First Semester Core Studio Project 3: Urban River: Landscape as a framework for public recreation and health.
After analyzing the site and the greater context of the future land-use of the Lower Allston and Watertown neighborhoods, it was clear how this area is rapidly growing residentially with commercial and mixed-use buildings, but the two sides of the river felt very separated and disconnected from each other. With Herter Park situated between three significant neighborhoods, the park functions to pass through it once entering, making it feel like an extension of Soldiers Field Road rather than a park. Given the impending environmental impacts of the site, even if people could stay, it would be a place constantly underwater, making it completely inaccessible either way.
There is a stark difference in energy between when the park activates by an event versus when it is not. It was clear that the neighboring communities felt disconnected. Thus, began connecting the neighborhoods to make this a fun, happening place to be like how it felt when the regatta took place earlier this year. The goal is to encourage more of that behavior, the behavior of not just passing through but of staying and activating the senses through different social activities daily with the use of:
1. Commercial infrastructure – eating and drinking with new restaurants and cafes
2. Changed edge conditions for large-scale events and spectating: new amphitheater area, large piers
3. Daily gathering spaces for smaller events and spectating: open green spaces for informal picnicking and meandering paths
4. Programmed water activities– kayaking, deck lounging, water features, swimming opportunities
By focusing on creating a new two-tiered littoral edge, river offshoots through the park to mitigate impending sea-level rise and flooding, and creating more access points on Soldier's Field Road (more spaced-out parking opportunities and five new pedestrian crosswalks), Herter Park will be a place the growing communities will want to visit.
In this conceptual design, this two-tiered edge includes a lower floating river trail that takes the shape of the original river edge following and flowing downstream – meant for the passerby. The upper tier is designed as a Riverwalk shape opposite the downstream, starting near where Arsenal bridge meets Soldier's Field Road spanning the entire park after Eliot Bridge, where the river bends down Memorial Drive. The riverwalk hugs the littoral edge of the Charles River for much of the path, with moments of curving inland suspended above the park to provide opportunities for visitors to access the water on ground level still. The suspension of the riverwalk encourages sustainable river flow that streams through the park as an added attraction. The geometries aim to speak to bustling communities of Alston and Watertown, often peering over the water's edge to stop, enjoy the views, spectate activities, and simply the beauty of the water, and even people watch.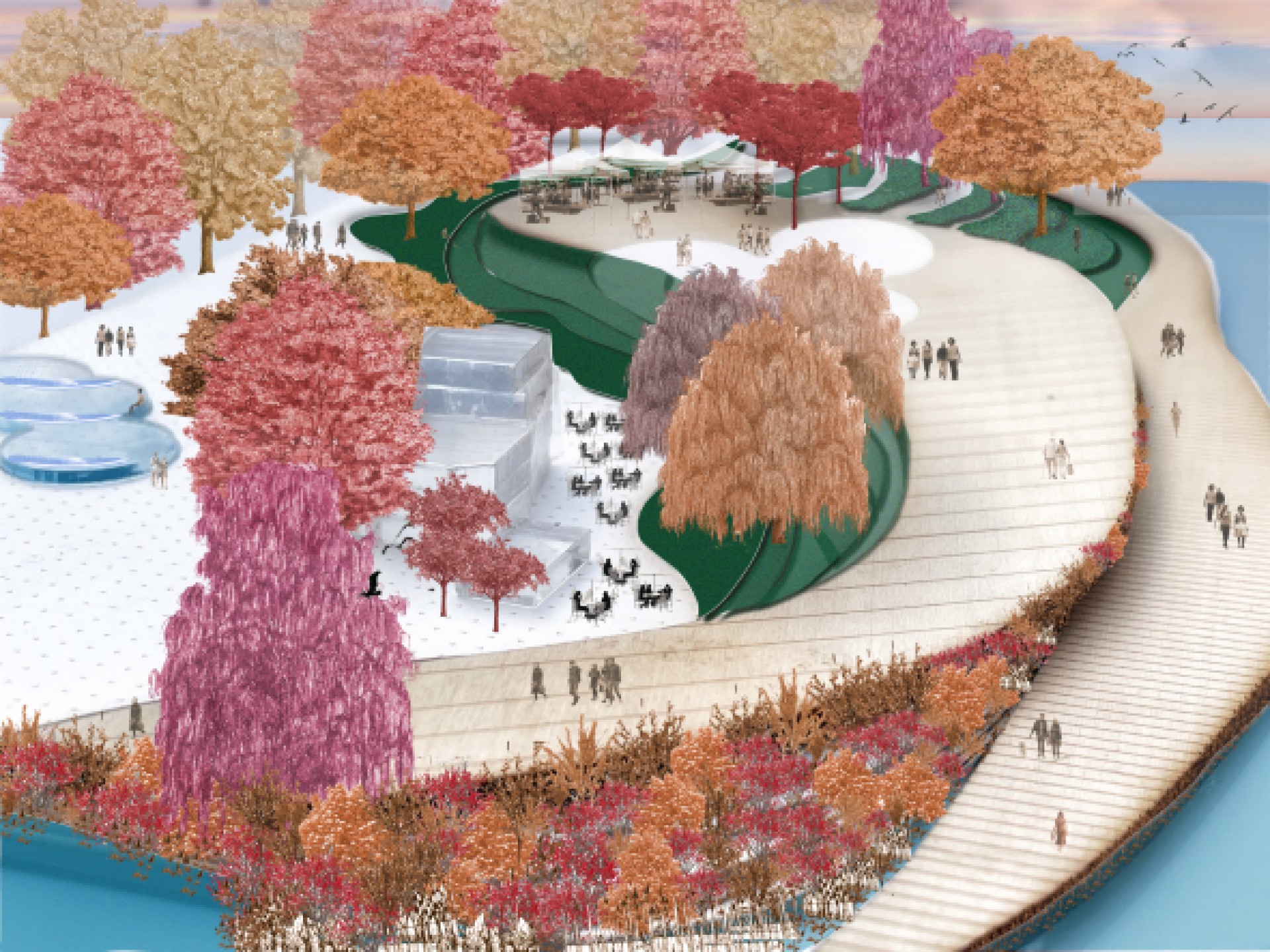 Model Perspective: two-tiered littoral edge where the lower trail meets the upper riverwalk.
Plan for Herter Park
Section perspective
Cross sections
Transections
Circulation
Programming
Urban Diagram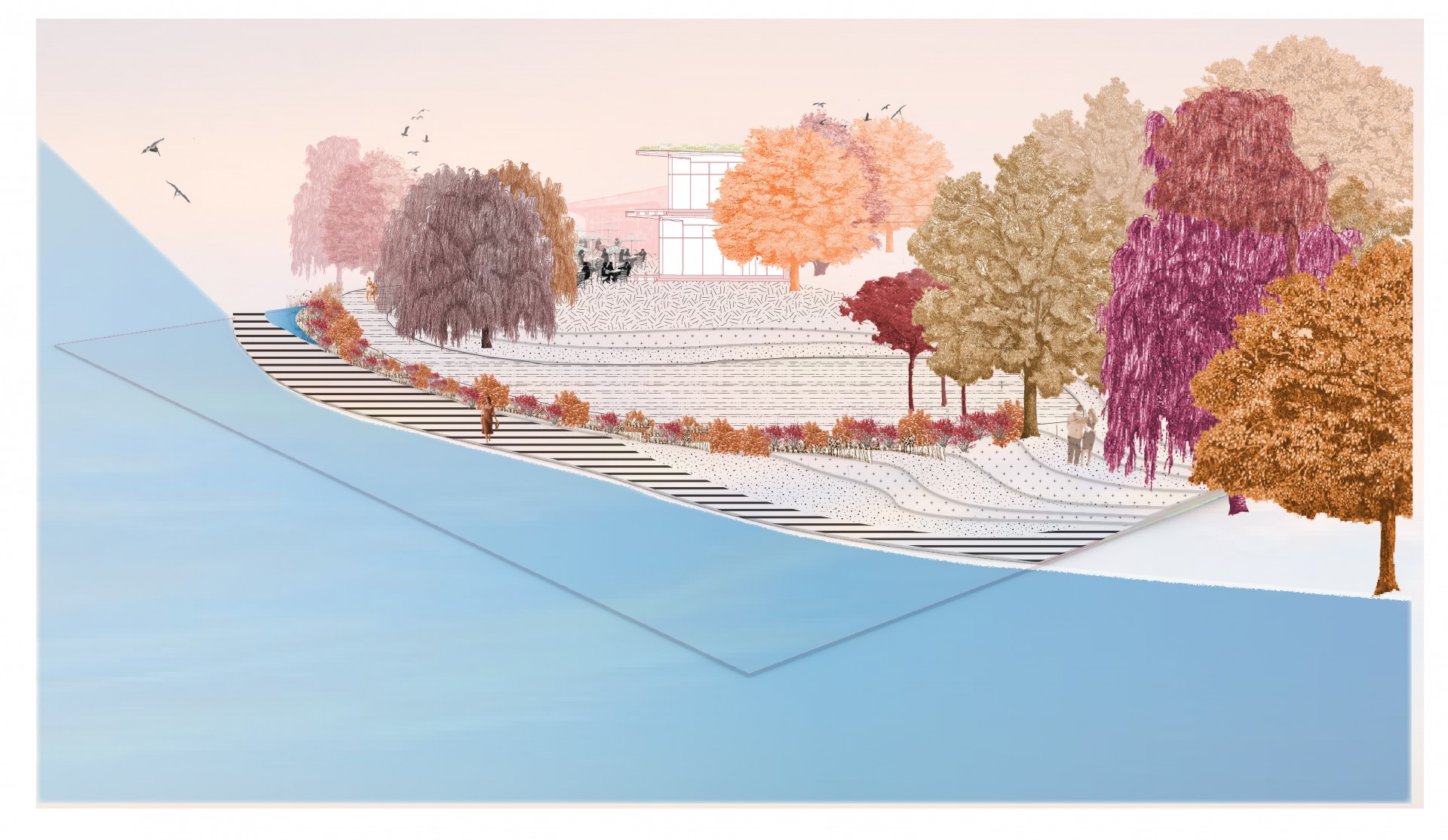 Perspective
Model
Model
Model
Model
Model
Initial Plan: sketch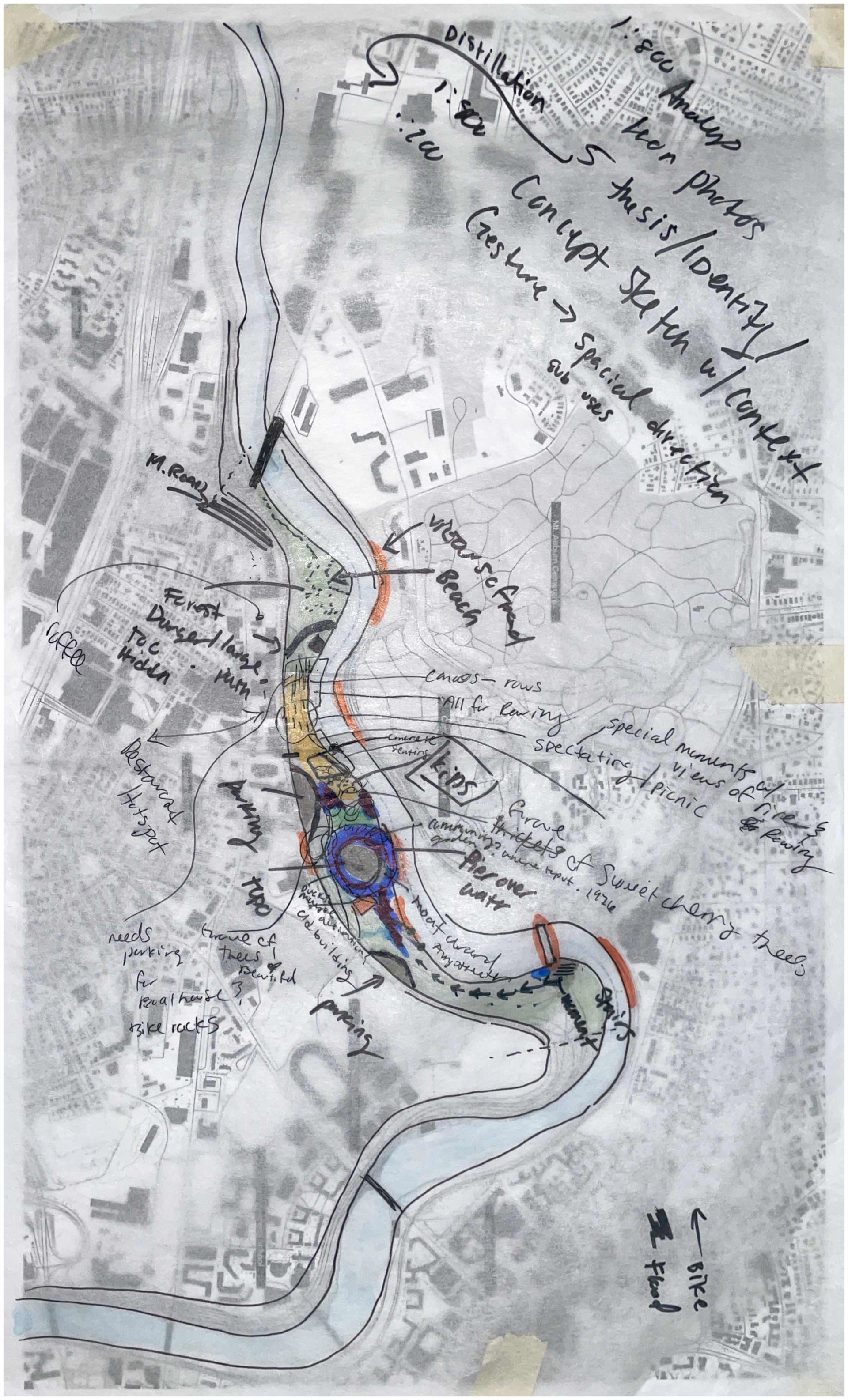 Site Analysis notes