Sva - A vision of Self sustenance
Location: Gandhinagar, India

Area: Sector 21

Year: 2021

Work Type: Student

Institute:

CEPT University

Status: Conceptual

Team Members:

Dharan Koruduvar

Instructor:

Mansi Shah, Chandrani Chakrabarti
According to UN World Urbanization prospects, in the past 40 years, the global population has grown by 80%. In nearly 50 years the urban population will reach about 70% of the global (world population prospects, 2006). This influx from rural to urban areas and massive urbanization creates numerous environmental and social issues. While the effect is observed in the current context as well, the situation is believed to amplify and get worsened in the coming years adversely. One of the primary concerns that would then emerge would be -Food as a commodity. At present cities contribute nearly 70% of the world's CO2 emissions, and reimagining cities for better environmental performance must be considered a priority on the global agenda. Thus, it becomes essential to re-analyse and re-assess the existing production and management practices and create alternative and rather efficient methodologies which substitute in a more sustainable manner.
Cities have long flow network which contributes the most to the Co2 emissions. Systems like wastewater treatments, solid waste to landfills, food supply, energy production and many more depend on a long supply chain and non-sustainable industrial methods, and these are the major threats to the environment in and around the cities. While I understand the cost efficiencies with city-level systems, I believe stable, short, and local networks will prove far more efficient in the long run and can reduce the overall carbon footprint.
So, my vision is to integrate a productive landscape into the everyday life of the people and to design a sector that is self-sufficient and defies the existing long supply chain systems in the cities. My design premises include systems for – growing food, recharging water, creating energy, managing waste and wetland systems.
To achieve the above, at a household scale, each lot will have its own productive space which includes- a compost pit, space for farming, and for producing energy. At overall sector level, food towers will cater to the further food demands in the sector. This sector also uses smart design strategies and systems to connect different infrastructures to form a productive loop. So, instead of waste going to landfills, spaces are allocated for the safe and efficient conversion of wastes into inputs for farms. Greywater from households is designed to run and feed into bioswales situated on every street and further aid in recharging groundwater. The black water will be treated in the sector through wetlands providing nutrients for fish farming or compost for growing food. This project at different scales attempts to create a food relationship loop that contributes to resilience and environmental sustainability.

View from a highrise building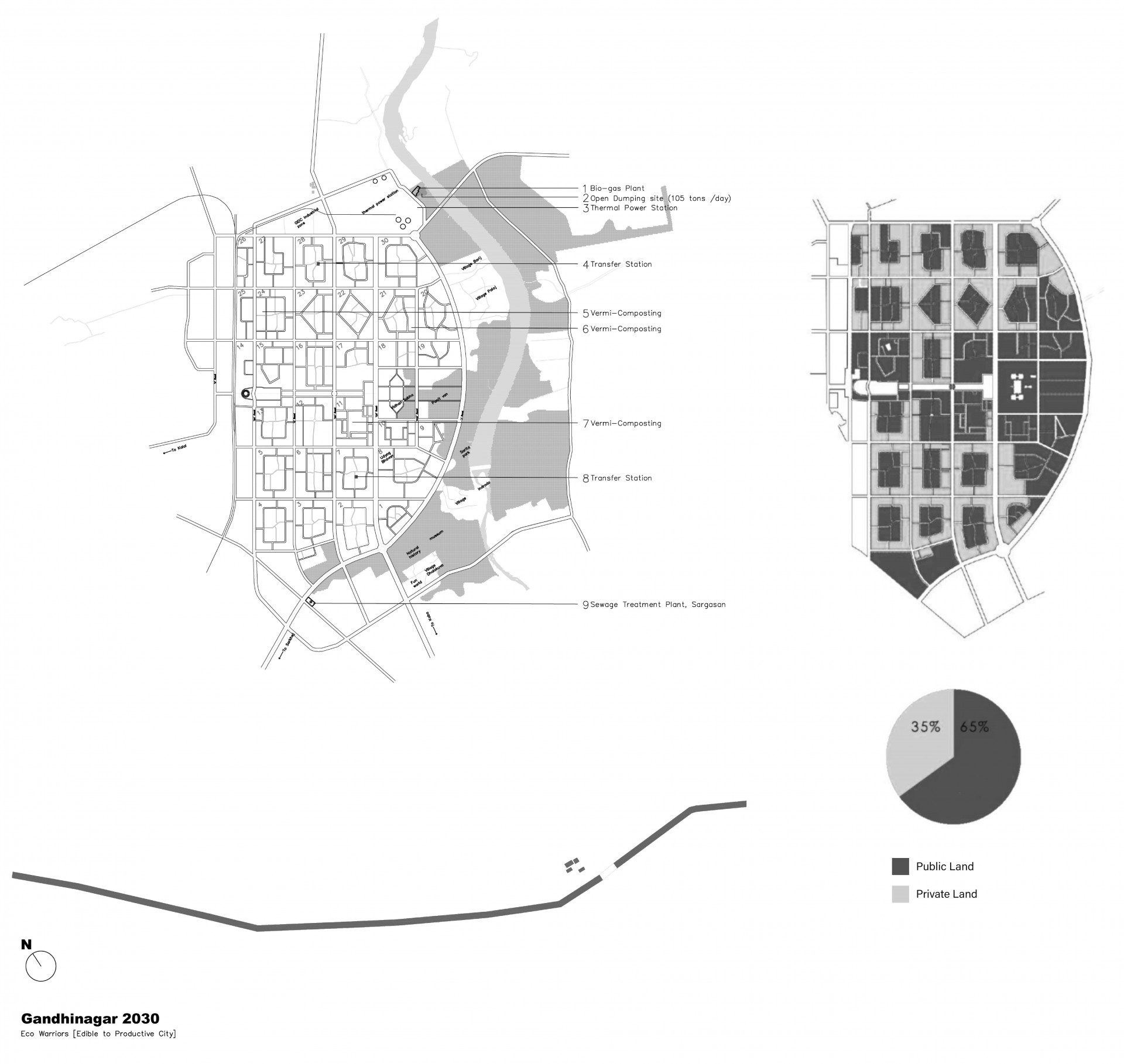 Site Overview
Strategies for Gandhinagar
Requirements for Self-sustenance
Interdependencies for functions

Household Typologies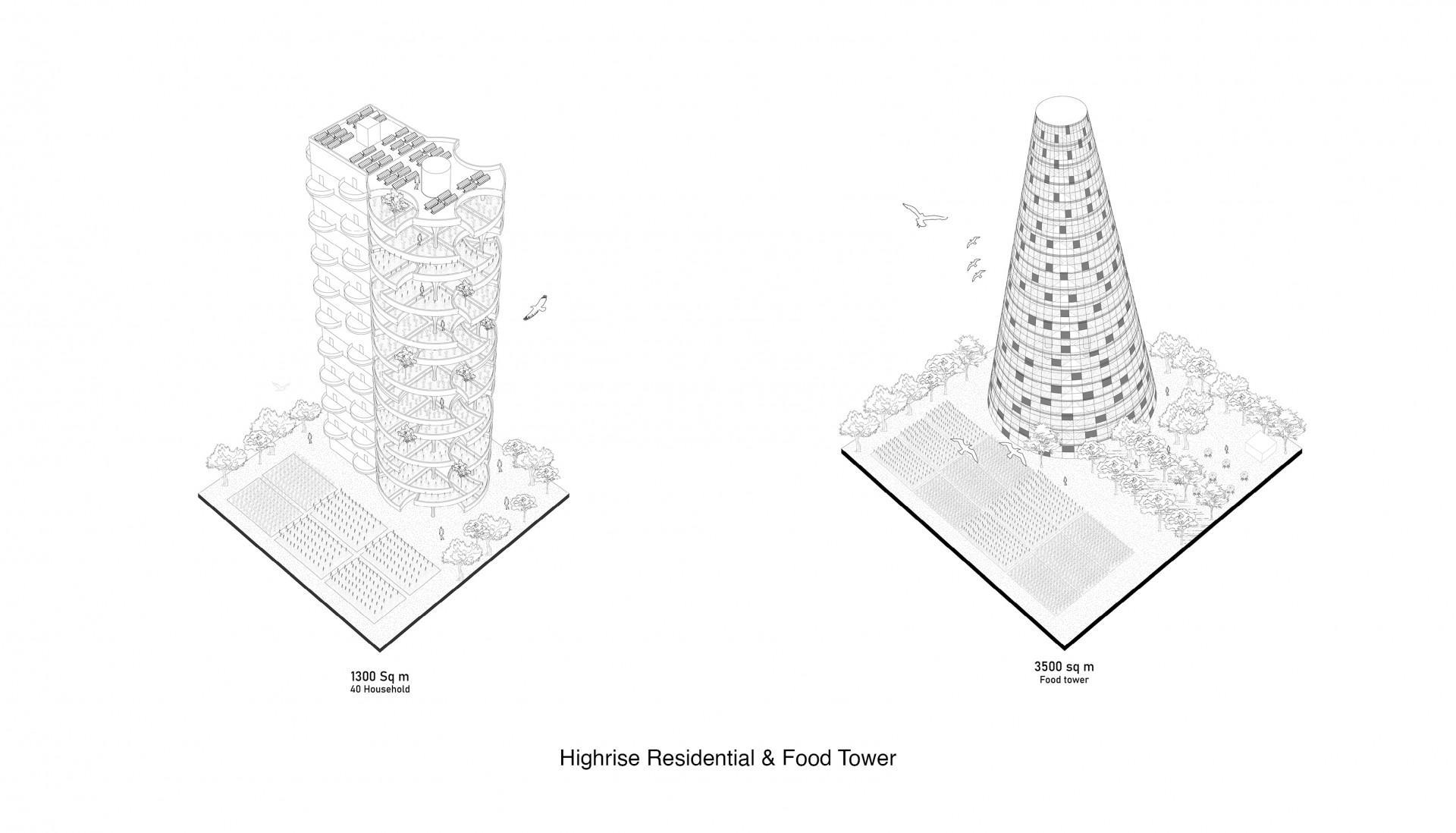 Highrise Structures
Recreational Spaces
Wastewater Treatment Systems
Proposed Masterplan for Sector 21
Part plan
View from balcony
View from a highrise building