Fluid Strata
Location: London, United Kingdom (UK)

Year: 2021

Work Type: Student

Institute:

Bartlett School of Architecture, MLA

Status: Conceptual

Instructor:

Ana Abram, Maj Plemenitas
The project is inspired by the urgent need for resilient landscape systems which can be introduced into the urban environment to mitigate unpredicted tidal and storm surges. The city of London is directly linked to the North Sea, which is known for high intertidal currents carrying large bodies of water towards the Thames's Estuary and right into the gates of the "Thames Barrier". As our planet is experiencing extensive weather instabilities and an accelerating sea-level rise, the project proposes a speculative approach to how urban flooding can be mitigated by activating the Deep Ground's ever-changing ecosystem dynamics. The proposal is based on a poetic notion to reactivate London's hidden rivers as part of a responsive flood-defence organism of the stratigraphy. Through a series of membranes, landscape tissues, valves and deep channelling systems, the hydrological overflows meander between the Strata before they fuse to be exhausted into the Deep Ground. The introduced tectonic is based on an experimental application of Polymer-based hydromembranes focusing on responsive behaviour above and below ground as the landscape exists in a reciprocal relationship with human and non-human territories changing its shape according to the water's kinetic. Performing in each tidal cycle, the landscape absorbs and channelises the incoming water flow to protect the district of Westminster and the existing underground infrastructure. Over the years, and under substantial sea-level rise, the hidden river Tyburn which operates as the main organ of the overall landscape, gradually resurfaces in reverse into the city to accommodate the needed hydrological capacity.


Along the course of the hidden river Tyburn, the landscape extends beyond its terrestrial inhabitation to protect the already existing subterranean infrastructure of London from flooding.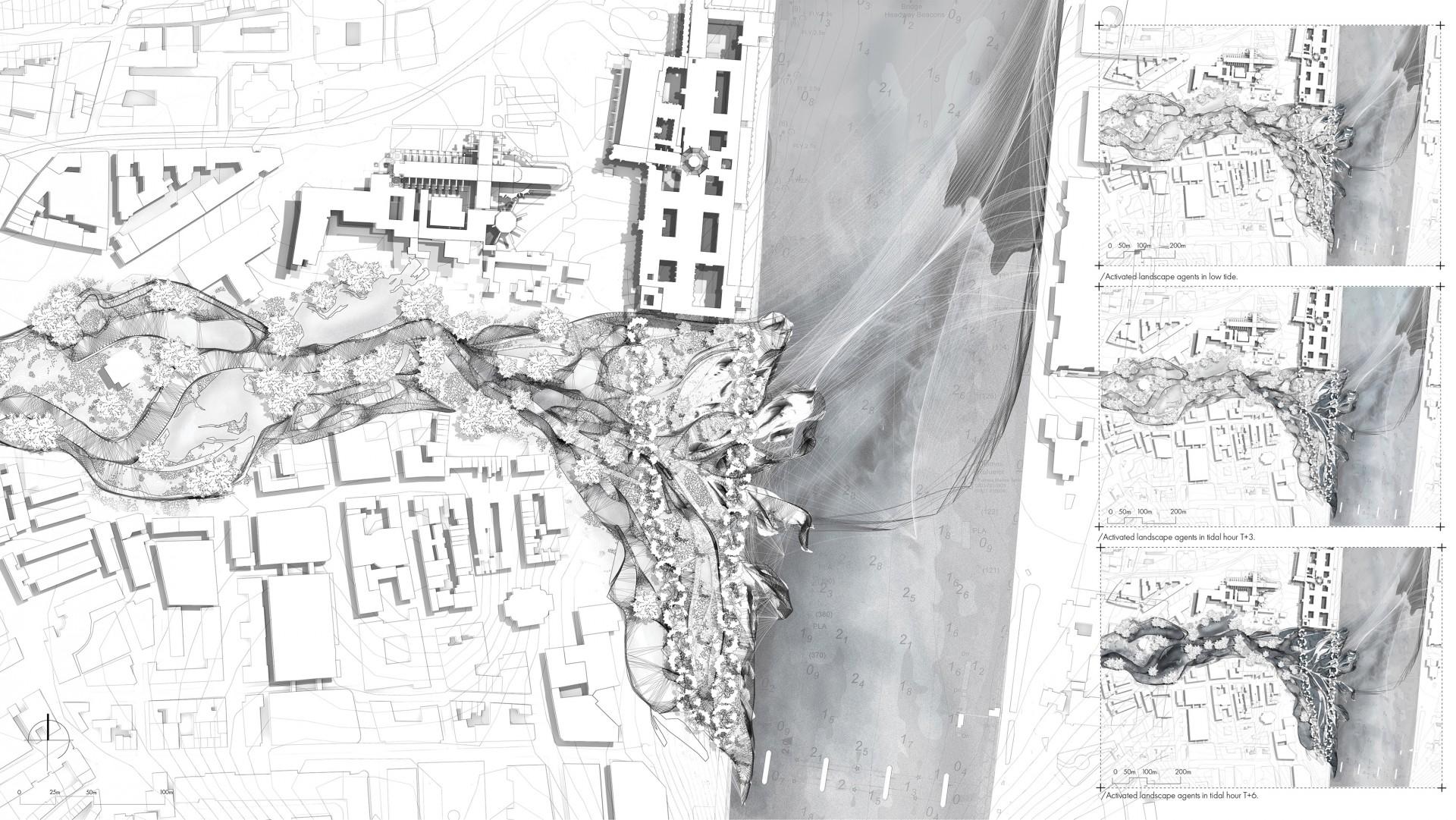 Above ground, the landscape engages with the human scale through a series of weaved paths, ponds and hills which transform the site into a green-blue infrastructure by the Thames.
Responsive membrane fluctuations between dry and flooded conditions.
The Strata of the landscape is injected by a series of Polymer-based membranous tissues, which swell between low tide and high tide to absorb the incoming hydrological overflows.
As soon as water saturates the Strata network, the membranes begin to swell by absorbing the moisture of their environment. As a result, they increase in size weaving a dense relationship with the Deep Ground.
Physical material prototypes of the responsive performance on a smaller scale.
Human Inhabitation.
Speculative membrane injection in the Deep Ground.
Hidden fluidity underneath the park.
Landscape evolution and kinetic.
Human and non-human landscape inhabitation.
The landscape follows the course of the hidden river Tyburn while weaving denser networks of flood-responsive operations.
Speculative material experiments to understand the nature and formation of the landscape membranes.
Section of landscape expansion in the Deep Ground.