EXPLORING STUDENT RESIDENCE TYPOLOGY
Location: Ahmedabad, India

Year: 2020

Work Type: Professional

Institute / Firm:

The Design Umbrella

Status: Conceptual

Supervisor:

Ar. Mudra Shah
The project to design shared accommodation spaces, or a hostel block, is located in the advancing city of Ahmedabad with a high density of infrastructural context near Gulbai Tekra. The
compact site of 800 square meters is encompassed with edifices on its three sides, leaving a minimal area with height restrictions for the design proposition. The total buildable area is 492 square meters with 1.8 FSI (floor space index) after setting aside the marginal space for conservation, corresponding to the regulations in India.
The client, moreover, had a building requirement to accommodate 200 students of the design discourse along with the basic institutional amenities and break-out spaces. The major concern was to negotiate free and open spaces for the design students contrary to the commercialized setting formulated by the client. The design, therefore, explored strategies to manipulate the block to achieve adequate ventilation within the abridged site. The resulting central court is an open to sky core promoting cross-ventilation and natural light inside the block. The addition of fixed glass above this service core is functionally complemented with solar panels to generate a passive design.
The organization of the hostel block is choreographed to create a politic balance between the private and the public spaces. The ground floor of the five-storeyed hostel block is equipped with parking and storage facilities for the students whereas the remaining floors are planned with units of shared accommodation spaces and common facilities. The second and third floors are provided with balconies with student lounges and indoor gaming zones on the northern facade to ensure sufficient provision of natural light inside the hostel block. The corridors on each level open up to the units ensuring minimal circulation for the students.

The area functionally emerges as a well-lit service core with a minimalist staircase to subsidize the built mass.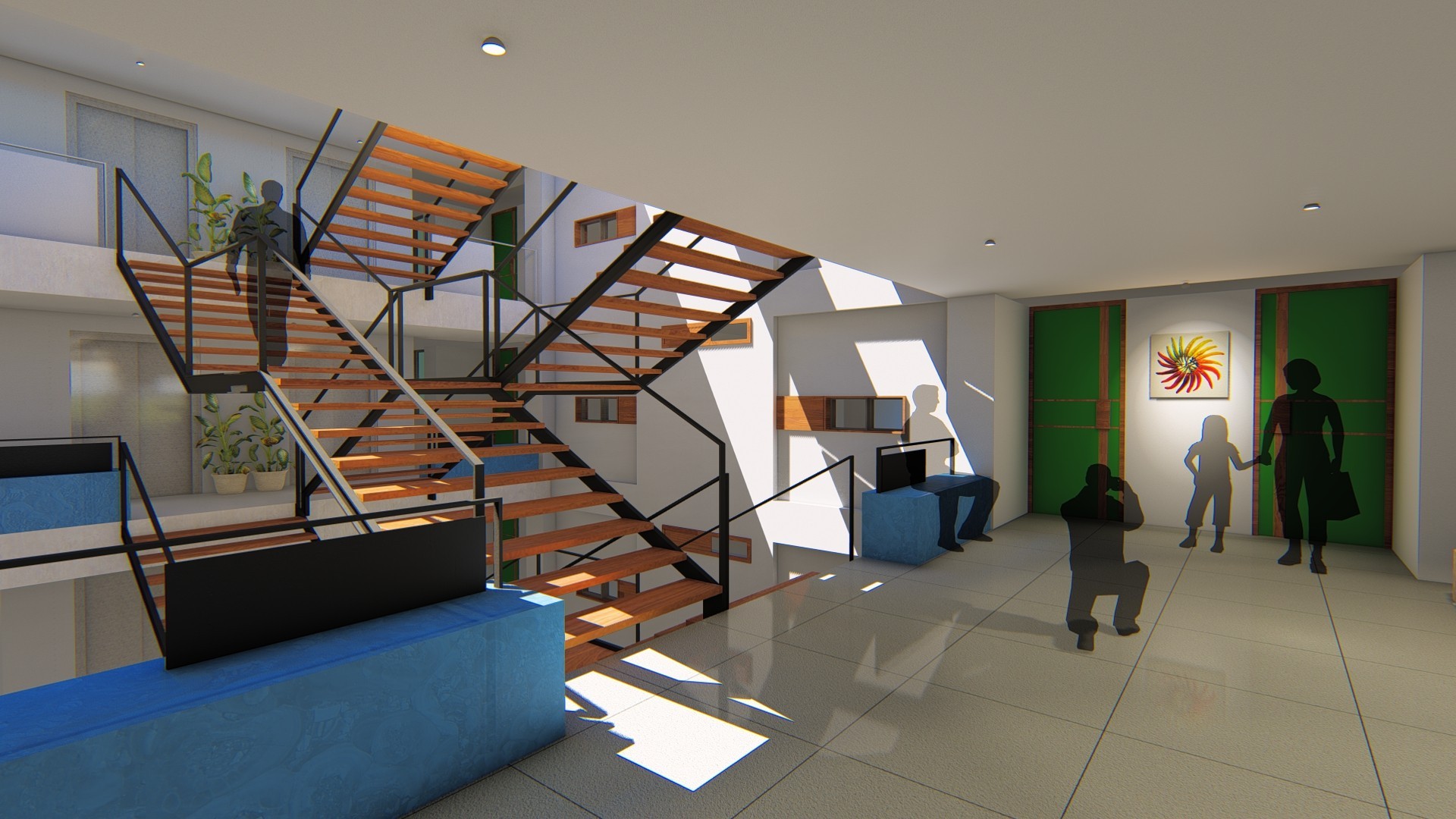 Each unit harbours four students and is carefully designed to overlap service bays while providing separate storage spaces for every room. The layout of a unit is designed sensitively to allocate a corner to each student, leaving a residual central space for the design students to work. This layout establishes a hierarchy in open spaces at private and public levels. Furthermore, all units are placed on the periphery of the block with access to windows and corridors on either side; instituting cross ventilation, view vistas and ample light in the interior. The desired proposal of a hostel block, thus, eliminates the challenges imposed by a compact site to provide a healthy living environment for the students specific to the discipline of design.
The typical box like structure necessitated a deformation in its mass to facilitate natural air-flow through the placement of a central void.